I packed by backpack with a computer and some tall tees. Then I jumped on a plane to Chiang Mai, Thailand. In this post, I'm gonna answer a couple of questions resulting from my trip:
How is it to be 6'8″ in Thailand, where most people are short?
How dangerous is it to drive a scooter, when you cant make turns because of your knees?
How is it to hike up a mountain and mountainbike downhill again when you weigh 230 punds?
How easy is it to make friends when travelling the World alone?
How much is a tailored suit?
Is it possible to stay on track with training and eating healthy when travelling?
These are the questions, I am going to answer in this blog post. Right now, I am sitting in Bangkok Airport. I have 5 hours left in Thailand, so I though it would be a good time to sum up on the some of the tall related endeavors, I've had while travelling to Asia.
How is it to be 6'8″ in Thailand, where most people are short?
I was actually a bit nervous travelling to Thailand. I even think a friend of mine said that I had told him how I would never go to Asia.
Why?
Because I had been to Rio. And there, it got really annoying with all the attention around me being tall.
It was alright the first 2 weeks. But then I got tired of the attention. People were clapping, pointing, yelling, taking photographs, touching my skin and stuff like that.
So, maybe Thailand would be the same. Maybe even worse? Well, I forgot all that stuff that I might have said to my friend – and I left Denmark to go to Chiang Mai in the northern part of Thailand for 1 month.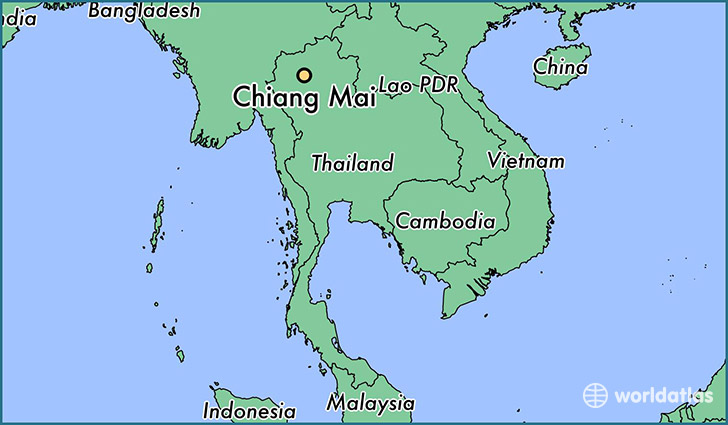 Chiang Mai has a large concentration of Westerners going there because of the low living cost, the fast internet, the great weather and the big community around Digital Nomads.
Digital nomads are people who are location independent and use technology to perform their job.
So how is it to be 6'8″ in a country, where the average height is 5'7″?  (according to Wikipedia's list of average human heights).
It was GREAT!
I can honestly say that it has been nothing like Rio, where many would stop me, comment, touch me and stuff like that.
Maybe it is the Thais who are just more polite. They don't harass you – just propose to you
They are super friendly and smile at you all the time.
I can handle a lot, don't get me wrong; I've lived with the attention and the #tallcomments for years and years, so people have to really push me before it affects my mood.
In Thailand, they did not manage to take away my good mood by bothering me with tall related stuff. Of course I got stopped a couple of times by tourists mainly, who wanted to take a "see how big the height difference between us is" picture.
And that's fine – I always say yes and do the pictures with them.
Another thing people DID do a lot was looking up and down 2-3 times, before saying something to their friends and comment on my height after passing me by.
That I am ALSO used to and don't mind at all. So these levels of #tallpeoplecomments are totally acceptable, compared to how some places can be.
Thailand is an amazing country and I can only recommend everyone to come here; tall or short.
And if you ARE super tall like me, and also taller, then don't worry one second that you won't be able to walk down the street without people bothering you.
You WILL get some comments and probably and offer to marry someone's daughter, but that is not the worst thing that can happen, right?
How dangerous is it to drive a scooter, when you cant make turns because of your knees?
Pretty dangerous, but manageable. That's the short answer
I rented a scooter with Mango Bikes in Chiang Mai, and they recommended a larger model;
Honda Click 125 cc.
This is a GREAT scooter – or motorbike as they call it here. I would say a motorbike is bigger – like a Harley Davidson or something – but that's not so important.
What's important is that I couldn't fit on any other scooter I tried, and this Honda Click was actually alright for me.
With that being said, I was not able to pull in my knees and fit them into the assigned space in front of the seat.
And that's not a good thing! 
If I did so, my knees would literally touch the handlebars – locking the steering completely, which is pretty dangerous.
I've had 4-5 situations where I forgot about my long legs and how I was supposed to flare my knees a little bit to each side. And then I almost crashed – because I lost my balance until I got my knees out of the way in order to regain control of the vehicle.
Therefore, I would recommend getting a real bike. I know it would fit my tall body much better. But there is also a financial aspect of this, as the price of renting a real big motorbike is much higher than renting a standard scooter.
But maybe those money would be well spent if the could save me from an accident.
Conclusion is that you CAN fit on a Honda Click if your are 6'8″ with long legs like me. Just take care and remember to flare your knees a little bit when turning left or right.
How is it to hike up a mountain and mountainbike downhill again when you weigh 230 punds?
One day, I decided to hike up a mountain. Something many people do – also here in Chiang Mai.
There is a temple called Doi Suthep up high on the mountain, and this is a very popular place to hike to via Monk's Trail.
I did that too on a Sunday morning, where the sky opened up and it rained like crazy for 3 hours.
It was a pretty easy hike the first part, and then it got really hard for the next. Having a big and heavy body makes it important to wear good hiking boots that makes it possible to hike up a steep trail made of mud.
I'm super happy with my affordable hiking boots;
Columbia Newton Ridge™ Plus II Waterproof
They cost around 80 dollars and have great reviews on Amazon – and also from me. Totally recommend these.
I was happy to be in good shape, as it really did become challenging further up the trail. Be in good shape if you want to hike alone, as a wrong step can give you a twisted ankle or the like – without anybody to help you.
Bring a lot of water too. I brought a big backpack from Osprey, which is great.
Osprey Farpoint 40 
Also I brought a lot of snacks to keep my blood sugar high. But make sure to have eaten a bit of breakfast also, as it isn't healthy to only fuel up on chips, chocolate and candy.
Downhill on a shitty mountainbike
After walking up, I had to get down again. I'd made arrangements for a guide and mountainbike at the top, and off we went.
Extremely difficult for a downhill noob like me, but with only 5-6 times in the dirt, I managed to get down; totally exhausted and with mud everywhere.
It was a great achievement, and I can totally recommending spending a little bit of time and money on things like that. Great memories and an awesome way to stay active on a trip.
I would love to have had a bike with double-suspension, so I didn't feel every little stone all the way up through the bike. Also, the safety equipment, I was wearing was very old and loose, so it didn't help at all when I was down kissing the ground.
Conclusion here is that you should get some good equipment and be in good shape before doing these things.
– if you want to know about how I gained 40 pounds of muscle and got in good shape – for stuff like this.
How easy is it to make friends when you travel the World alone?
I like to travel alone. Because it builds character – practicing solitude. And because it allows you to meet people in very different way than if you always bring a friend.
You're likely to be more open and engage in conversation with strangers you meet on the way. Often they have amazing stories to tell and the best travel tips that you won't find in any guide book.
I found it rather easy to make friends on my trip to Thailand, as I made a dedicated effort to become part of specific communities.
Here, I'm talking about the Digital Nomad community that's very prevalent in Chiang Mai. I did this by signing up with a coworking space called Punspace and just chat up people from there.
I also went to all kinds of lunches, talks, meetups and activities found through various Facebook groups and websites. My favorite was BoredBreaker – a very complete event calendar for Chiang Mai.
People are very friendly and open-minded in general, when they decide to go travel, so it typically is quite easy to get to know a new person just by starting with questions like
"What do you do here?", "What brings you to Chiang Mai?" or "What other cities have you worked from?"
One thing that is a bit harder is to make the relations last, if you keep travelling. Many of the friendships you establish while travelling are brief, as either you move on or they do.
Nonetheless, I think it is very important to engage truthfully and passionately in every relation – no matter what the future perspectives look like. And if you do that, you will meet amazing people that shape your journey in incredible ways.
How much is a tailored suit?
215 USD. // 193 EUR. // 7500 THB.
I'd heard so much about tailored suits from Thailand. Seems like it's a normal thing to have made, when you travel to Thailand. And being 6'8″ I've never had a suit that really fitted my.
Closest thing I have is a more casual blazer from American Tall;
So I thought it was a good idea to have a TAILOR-MADE suit made – like everyone else seemed to be doing – and I found His & Her Tailors House on TripAdvisor. Great reviews made the choice easy, and I jumped on my scooter and went.
Mr. Kumar welcomed me and told me to sit down. I asked about the price, and he didn't like that. 20 minutes went by with burning different kinds of fabric, guessing on quality, lecturing me on breathability and a lot of other stuff that seemed to be MUCH more important than merely price.
Okay, I got the point – great salesmanship – and I chose a mid/high quality of cashmere cotton. After 4 fittings over the next 2 weeks, I ended up with a really great, navy blue suit with blazer and pants neatly packed in plastic to fit in my backpack. Here, it's worn for the first time.
I was super satisfied with Mr. Kumar and his guys and the service, they provided. A great experience and I can only recommend having a tailor-made suit made when going somewhere, where it's a bit cheaper, but not necessarily of a lesser quality. And just because you are tall, it doesn't cost extra.
How to stay on track with your training and diet while travelling?
Always a difficult one. I must admit, I did not train as consistently as I would have at home.
The tricks are;
Sign up for a good gym,
Locate the best supermarket
Have a kitchen at your disposal.
The apartment building I lived in had a "gym", but it really was just one machine in a super hot room with a single fan. It was almost not possible to survive a workout in there – not without dehydrating half way through..
Instead, I found a great gym where you'd buy day passes for $2.
As for supermarkets, they were rather expensive, when I wanted to buy egg, chicken and tuna in bulk. And lastly, I did NOT have anything close to a kitchen at my disposal.
So it was hard to maintain the same cadence with my workouts and the same healthy diet as I would muster back home. The street kitchens are great and cheap, and when you can buy good food for $3, it's hard not to.
My recommendations are to do what you can, while travelling – it's better than doing nothing.
The best workout is the one you DO.
As for dieting, it IS possible to focus on eating less rice, ask for less oil on the salad and generally go for the healthier alternatives.
Also, find someone who is in on the whole fitness thing – I met a cool guy named Freddie, who was even more strict with what he ate than I was. Very inspirational and a good support when it gets too easy just to eat street food all the time. Thanks, Freddie
Conclusion
Thailand is great, the Thais are friendly and it was an amazing adventure to try out the Digital Nomad lifestyle. Being tall is not a problem, if you just make a few workarounds and make the best of every situation.
People want to take photos with you, a LOT of "Ohhhh"s and stuff like that, but that's a matter of how you decide to handle it. I try to always be nice, say thanks and agree to the photos.
Watch out when driving small motorbikes – flare your knees a little bit in order to be able to turn. Go on adventures and make your size work for you in every situation. And go get a suit as quickly as possible – price and quality is great, if you choose the right place.
Thanks for reading along – it has been an absolute pleasure to gather all the above insights and photos, and I urge you to go on your own trip whenever you have the opportunity